[ad_1]

Chinese authorities have stepped up emergency measures to deal with extreme heat and a crippling drought in the south-west of the country that has forced cities to dim lights and left electric vehicle drivers struggling to recharge cars.
A record months-long heatwave, with temperatures reaching a high of 43.4C in Chengdu on Sunday, has emptied rivers and dams in Hubei and Sichuan provinces, which rely on hydropower.
The situation has had a cascading effect on electricity supplies in other parts of the country, just as the economy has been hammered by Beijing's zero-Covid restrictions and a crisis in the property sector.
Officials in Sichuan have declared the event a "level 1" emergency incident, the highest possible, and at least 50 mobile generators from other provinces have been dispatched to help stabilise the local power supply, the State Grid Corporation of China said.
Authorities have suspended power supplies to a number of factories, forcing manufacturers such as Toyota and Foxconn to suspended operations in Sichuan, a province of 84mn people and an a hub for lithium mining and the solar panel production.
Lier Chemical, a Shenzhen-listed pesticide manufacturer, said in a filing on Monday that local officials had extended the industrial power cuts until Thursday.
The cities of Chongqing and Chengdu have ordered lights to be dimmed, and shopping malls and office buildings have turned off illuminated outdoor advertising and suspended the use of lifts. Office workers in Chengdu have also been urged to set their air conditioners to 27C in an attempt to reduce energy use.
Shanghai, which partially depends on hydropower from the region, said at the weekend it would suspend its famous daily light show on the Bund, the waterfront stretch of commercial buildings, for two days.
Electric vehicle owners in Sichuan and Chongqing have also complained that recharging stations have been closed. Tesla said only two of its 14 charging stations in Chengdu were open on August 17.
"[I am] either charging my car or looking for an available charging pile," an electric vehicle owner in the city wrote on Weibo, China's Twitter-like microblogging platform.
The extremely hot weather is forecast to last for the rest of the month, and analysts said the high temperatures would heap more pressure on the economy.
"With Covid restrictions . . . still a day-to-day issue for the country . . . and a real estate sector that is undergoing critical rehabilitation, a black swan event has occurred with a record two-month-long heatwave," Jefferies analysts said.
"The drought has created a vicious spiral as hydroelectric power becomes scarce which in turn cuts electricity production for industry."
"Sichuan is now facing the hottest temperatures and the worst drought of the past 60 years, with hydropower resources down 51 per cent," Morgan Stanley analysts Simon Lee and Leo Deng wrote in a research note, adding that the government expected the situation to last to the end of August.
They said 19 provinces were experiencing record high power demand as a result of the high temperatures.
Climate Capital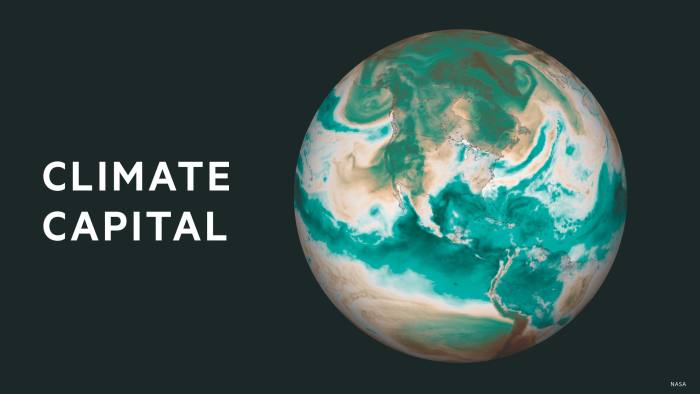 [ad_2]

Image and article originally from www.ft.com. Read the original article here.