[ad_1]

Here's a look at the smart-money movement I've been seeing lately, and what I'm looking to do about it in my trading in the week ahead.
This week, I'll be covering:
OXY

– From .45 To 7.05!

SQ

– From .70 To 3.90!

MSFT

– Turning Failure Into Opportunity!
The first big battle has occurred and so far the market is licking its wounds!
Specifically, Last week's 2nd half sell-off came after SPY failed its first attempt to break above an area of EPIC resistance in the form of the 2022 downtrend, the mid-April bottom, the 200-DMA, and the top 2 Standard Deviation band above the 50-DMA.
All of this comes before perhaps one of the most important economic events gets ready to kick off this Wednesday and extend through Friday.

Friends, the Jackson Hole Economic Symposium is where all the economy's "puppet masters" get together to determine plans for economic policy.
Federal Reserve Chair Jerome Powell will have a chance to reset expectations in financial markets when he speaks at 1 p.m. Eastern Time Friday. Most economists expect him to maintain the Fed's stance of doing whatever it takes to get inflation under control.
Grab your popcorn! 

Back on 8/18/22 I alerted my LottoX Members to:
OXY
Long
Contract: $65 Calls
Ben's hot for energy names right now, and thinks OXY could pop into tomorrow. These are trading around $0.40.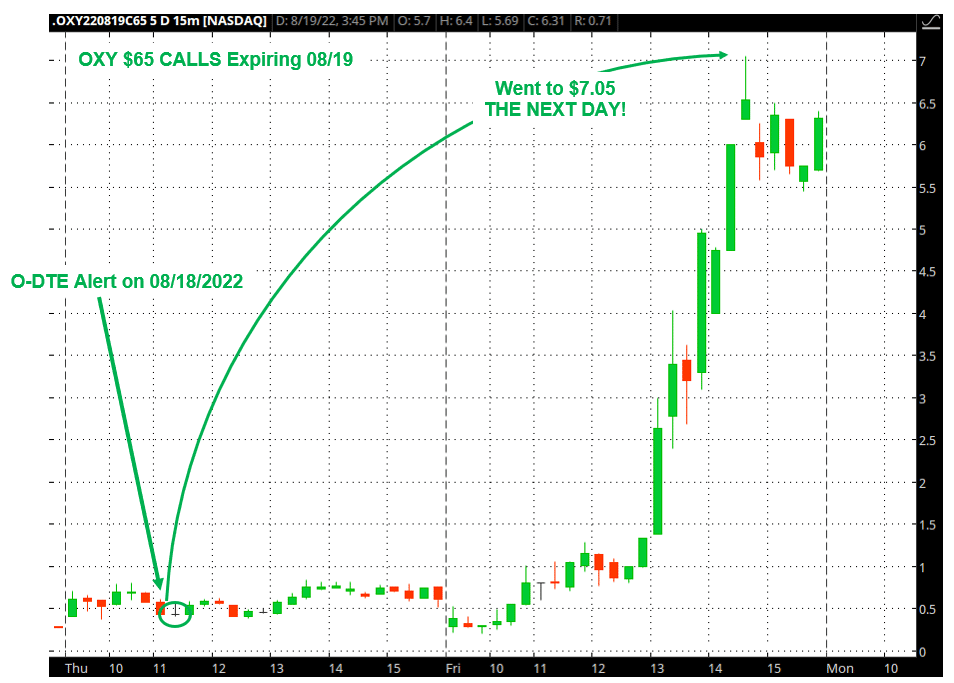 And sure enough, the contract saw epic prine movement in just over 24 hours, with the contract jumping as much as +1467%!
SQ Short HONORABLE MENTION
Contract: $78 Puts
Ethan likes SQ as a downside play today. These are trading around $0.70.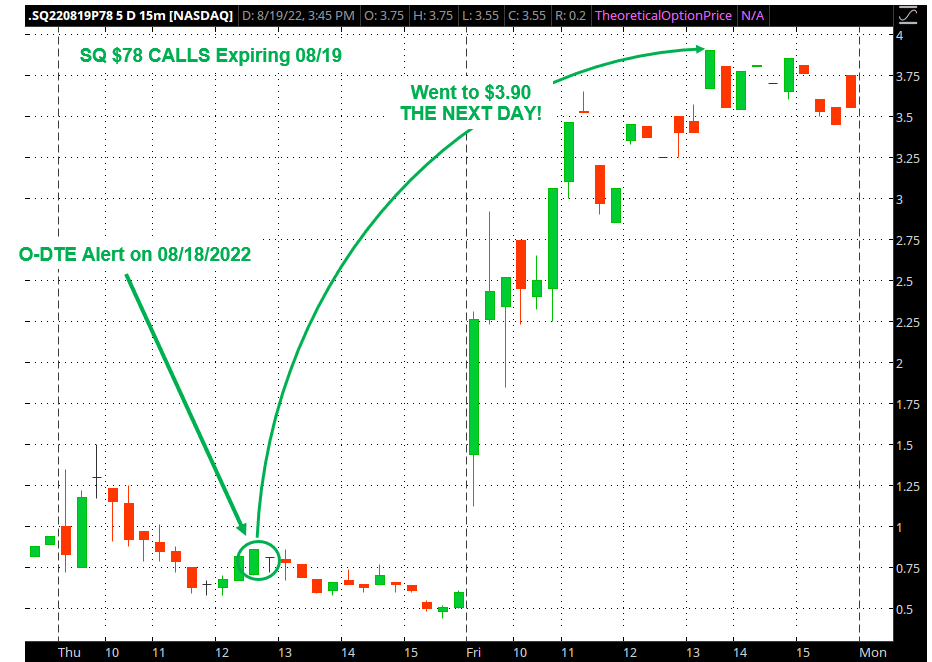 BOOM! In just over 24 hours the contract exploded as much as 457%.
Now, BOTH of these throwbacks came from Thursday's LottoX Live session.  If you aren't a member yet, consider saving on a year of access today. CLICK HERE TO JOIN LottoX
Okay, that's enough looking back… Because as much as I hope these helped you find some winning trade ideas, I want to talk about what's cooking now in the Fat Cat Kitchen…

MSFT
What I am seeing in MSFT is representative of what's going on across the largecap growth space.
What I am about to reveal is a valuable lesson in how the best traders recognize when they are wrong EARLY ON, then turn those mistakes into opportunities. 
This is the case with MSFT.
Specifically, last week MSFT had the most volume on my Dark Pool Scanner, THE absolute best tool for identifying where Wall Street's largest players are trying to hide their trades. 
However, I played it wrong by getting bullish on the stock  too soon. 
Sometimes even the best traders fail to see EVERYTHING that the charts are telling them, and that was certainly the case with me as I went long MSFT just as the stock was still trying to break above its 200-DMA last week.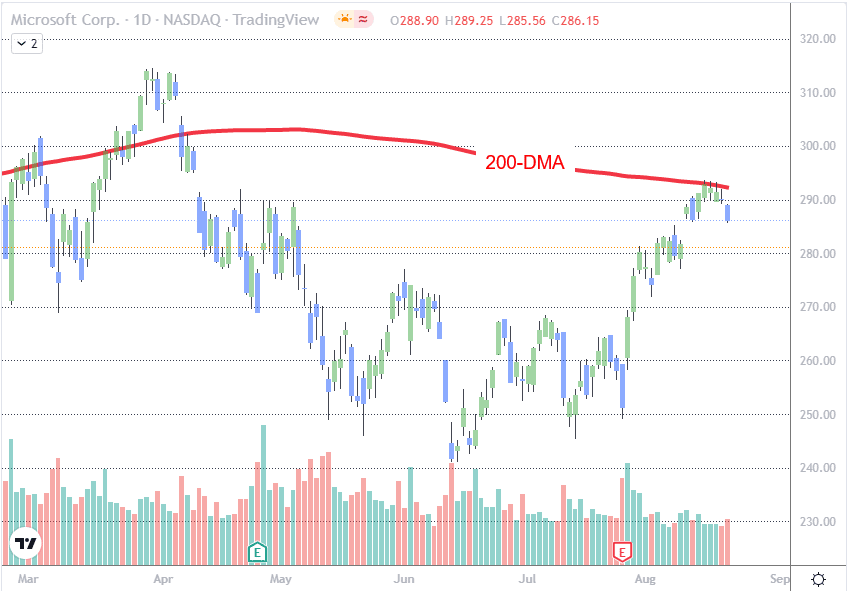 The MAJOR lesson here, other than trying to drill into your head that your trading plan MUST include stops based on key technical levels, is that the levels where BIG VOLUME comes across on my Dark Pool Scanner are to be RESPECTED.
For instance, my Dark Pool Scanner signalled that $292 was a MASSIVE level that, if breached on the downside, would unleash heavy selling.
As you can see on the chart directly above, that has certainly been the case in MSFT. 
Now, MSFT is the 2nd largest holding in the QQQ.

I bring this up because what is happening with interest rates right now is KEY to understanding how we need to be trading large, growthy tech stocks. 
Why is that?
Because, when interest rates are rising that can really eat into the future discounted cash flows of these companies. As a result, they can start to underperform again.
You can see how rising interest rates affect the performance of big tech stocks like MSFT on this next chart.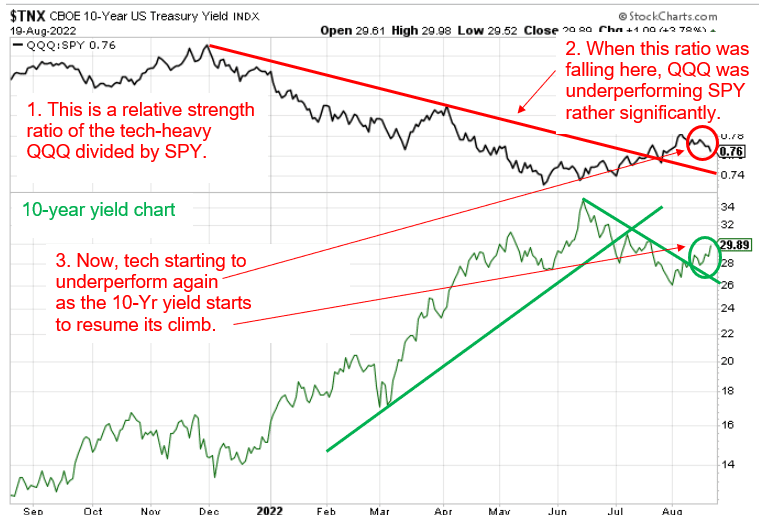 MSFT and many other stocks in the tech-heavy QQQ index are getting clobbered again this morning, and they may remain weak until the market determines what the Fed's next big move is going to be in Jackson Hole this week. 
NOTE: Names like MSFT are what I add to my Dark Pool Picks Watchlist, which streams during market hours for my Dark Pool Picks Members.  That means you don't have to wait for next week's "Hustle" to get these ideas delivered to you.
And don't forget that my Dark Pool Picks Scanner streams LIVE for my Dark Pool Picks Members whenever the market is open.
Well that's it for today – Happy trading, Full-Scopers –  I'll be in touch!


[ad_2]

Image and article originally from ragingbull.com. Read the original article here.