[ad_1]

In yesterday's webinar, I sought to make two points:
The first: the advantage of mechanical systems lies in their simplicity.
The disadvantage lies in the fact that simplicity assumes the structure of the market. If that assumption is incorrect, then the system will sustain consecutive losses. For example, if you use a reversion to mean system in a trending market, then you will experience a drawdown.
The problem for retail traders is that they are unable to continue trading a system through its statistical drawdown. For example, a system may have the probability of ten consecutive losses. The trader experiences four and abandons the system.
The second point: the 4-Phase Framework overcomes the disadvantage. It does this by first identifying the trend of the trader's timeframe.
I recently took to trades that illustrate these ideas differently.
The chart below is that of the AUDNZD. You'll see that I managed to short the low of the move. I was anticipating a breakout. The chart also shows the soft stop exit.
The next chart shows what happened after I close the position. I did not re-short.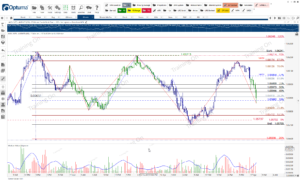 The final chart in the AUDNZD is the current position.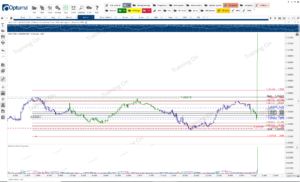 The next chart is a similar trade in the EURUSD. I again shorted the lows anticipating a breakdown. I took a soft stop exit but in this case, I re-shorted. The chart shows the current position.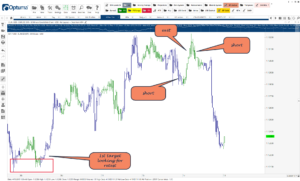 So what's the difference between the two trades. It's the context. Compare the next two charts.
The first is the AUDNZD. I am trading the weekly trend.
We see that it is that swing monthly resistance (red line). There is a weekly line up (blue line covered by the red line). The weekly line is overbought. The directional move up has paused, and acceptance below 1.0584 would probably see prices retest the 1.03869 area.
I had sold anticipating the break. Without acceptance below 1.0584, I had little interest in being short. Hence after my exit, I chose to remain sidelined.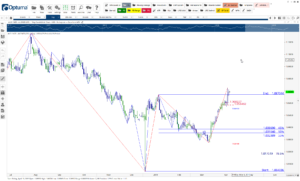 The next chart is that of the EURUSD. Again I am trading the weekly trend. But in this case, the monthly trend (red line) shows a clear picture. Unless there is acceptance above 1.1331, we should see a retest of the lows, with a strong possibility of new lows.
So, after I had exited the failed breakdown, I was prepared to re-short when it was clear that the primary sell zone would hold.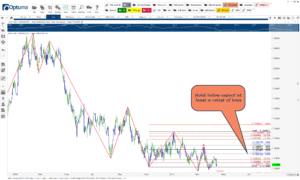 The evidence is clear: having a simple approach to trend identification will overcome the disadvantages inherent in a mechanical system. With that in hand, we can then apply the advantages – the simple execution rules for entry, exit, and trade management.
So, what you think? Do I have a point? Or do you think otherwise?


[ad_2]

Image and article originally from www.tradingsuccess.com. Read the original article here.