[ad_1]

The game is on as the market awaits tomorrow's employment
report and to see if the other shoe is going to drop on layoffs. Not to mention
any deeper impact on the economy from inflation and the prospect of more aggressive
rate increases from the Fed.
We are taking the excitement over the renewed bullish
sentiment with a grain of salt. There was a similar rise in bullish sentiment at
the end March as that rally stalled just before the bottom fell out.
Investors
Intelligence Bulls/Bears Difference also rallied back above zero in
late-March as it has the last few weeks. Red circles in the chart show comparable
moves above zero during the 2008-2009 and 2015-2016 bears well before those
bottoms.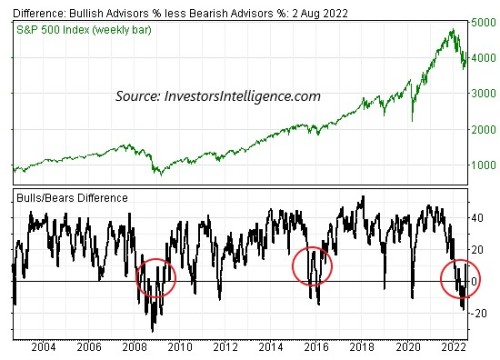 We may yet push a bit higher, but our cycles and indicators
are still pointing to a retest of the June lows with the potential for a lower low
before the bottom over the next three months.
[ad_2]

Image and article originally from jeffhirsch.tumblr.com. Read the original article here.