[ad_1]

Here is a little sneak peek into the 2023 Stock Trader's
Almanac from Justin Mamis' The Nature of Risk that is remarkably
apropos now. 2022 continues to track this Sentiment Cycle rather closely.
Just before we presented at the CMT Association's 2022 Annual
Symposium veteran technical analyst Helene Meisler shared Mamis' Sentiment Cycle
along with her analysis of where in the cycle the market was at the time at the
end of April 2022—in that brief pause between disbelief and panic (green
circle).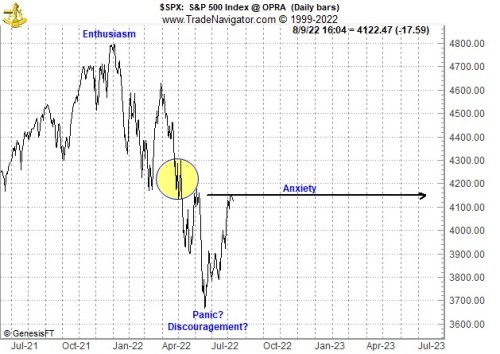 Comparing the current chart of the S&P 500 below we've
highlighted in yellow that area of disbelief Ms. Meisler pointed out in April. The
June low correlates quite well with Panic and we are now hitting the first
level of Anxiety.
This dovetails with our seasonal/cycle outlook for a lower
low or retest of the lows over the next three months as we are in the worst two
months of the year and are smack dab in the "Weak Spot" of the 4-Year Cycle
from Q2 to Q3 of the midterm election year, which sets up the Sweet
Spot and the Quadrennial Rally.
We will know more tomorrow after the big CPI report comes
out. If CPI cools considerably that would suggest we have passed the Panic
point and are on the other side of Discouragement and climbing the Wall of
Worry toward Anxiety before a higher low at Aversion.
[ad_2]

Image and article originally from jeffhirsch.tumblr.com. Read the original article here.