[ad_1]

After our comment on HSBC (NYSE:HSBC) Q1 results, today we are looking at the second-quarter performance. Last time, after our analysis, our internal team was not too optimistic about Europe's largest bank and we presented some concerns about capital requirement evolution, management's future outlook and shareholder remunerations.
Before analyzing the Q2 results and comparing Wall Street estimates, let's deep dive into the three points above.
The capital requirement outcome was a disappointment. The Common Equity Tier 1 ratio was at 13.6% signing a minus 50 basis points compared to the previous quarter. Looking at the consensus expectation, it was a 20 basis points miss. Even if we exclude the negative one-off since France's sale, our main concern derives from the higher risk-weighted assets. Having listened to the call, management expects to bring the CET1 ratio to 14-14.5% in early 2023.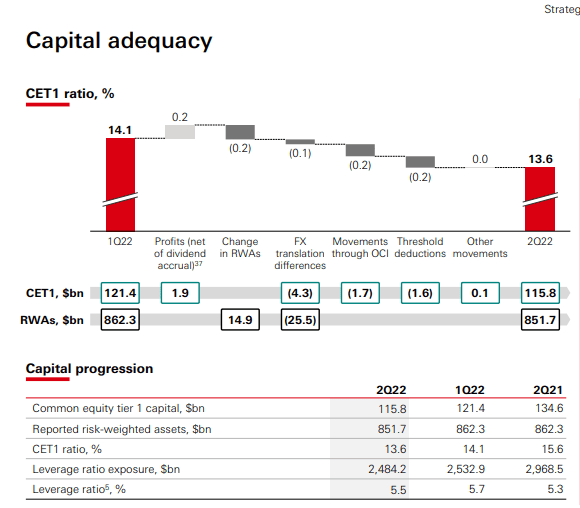 Again, looking at the company's future, we would like to report some statements from the CEO. He said that: "we are confident of achieving a return on tangible equity of at least 12% from 2023 onwards". Once again, HSBC postponed higher profitability target one year ahead.
Unfortunately, the same story happened with the dividend. HSBC will return to pay quarterly dividends from the beginning of 2023. The institution will pay a cash dividend of 9 cents per share for the first half, up from 7 cents last year. HSBC also communicated that the dividend payment will be linked to a 50% payout ratio. On the other hand, the buyback remains unlikely this year. The CEO explained that the company "understands and appreciates the importance of dividends to all of our shareholders. We will aim to restore the dividend to pre-Covid-19 levels as soon as possible". So, once again, there will be a year of transition. However, according to our calculation and by taking into consideration the positive side, the new guidance implies a dividend yield of around 7.8% in 2023, a guidance that is over 10% higher than the consensus estimate.

Q2 Results and some internal turmoil
Ping An Insurance's proposal to spin off the Asian business returned to HSBC's largest shareholder. China's Ping An Insurance recently pressured the bank's management to explore strategic options such as the spin-off of its main Asian business to unlock greater shareholder value. The proposal garnered the backing of some Hong Kong retail investors, unhappy with HSBC's decision to cancel dividend payments in 2020. Without directly referring to Ping An's request to split but in an implicit response to the Chinese insurer, the HSBC CEO said that the bank is accelerating the restructuring of its US and European operations and will rely on its global network to continue to drive profits on the investor community with these words: "Look at the half-year results and you will see the value of the current strategy". He also explained that HSBC "as a global institution is the primary reason our wholesale clients choose to bank with us and we are determined to capitalize on the benefits our network offers us". Most of the bank's profits are made in Asia (+69% in the first half of this year from 64 % of the previous year) where the company continues to invest resources as part of a broad growth plan. Indeed, Hong Kong and mainland China are two of its most important markets.
Looking at the half-year results, top-line sales were in line while Europe's largest bank by market value announced a 13.9% year-over-year increase in net profit in the first half of this year to $8.29 billion, this was also driven by a tax credit of $1.8 billion. Whereas, pre-tax profit fell 15.3% to $9.18 billion but beat analysts' expectations that were estimated at $8.15 billion. Net interest income was up and HSBC offered new guidance based on interest rate hikes. The company also announced $1 billion in savings to offset inflationary pressure. To sum up, the company delivered a good quarter.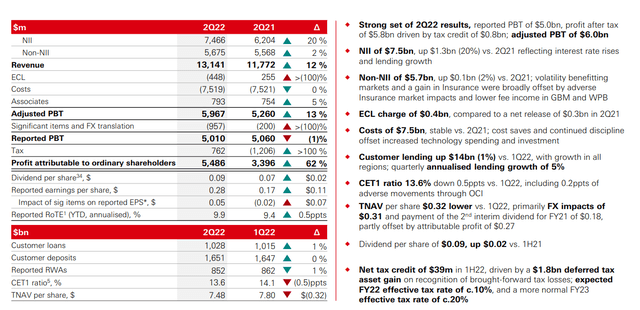 Source: HSBC Q2 Results
Conclusion and Valuation
The company raised its tangible equity return target to at least 12% starting in 2023 compared to the 10% previously indicated. During the call, they also reiterated the future shareholder policy distribution. Our internal team believes that HSBC needs to deliver some tangible results before making any adjustment to its target price and we reaffirm our previous valuation at £505 per share. HSBC is currently trading at a price-to-book value of 0.9x on 2022 estimates. We believe that HSBC is totally priced in and there are other banks in our universe coverage that offer better upside and stronger solvency ratio requirements. BNP and Credit Agricole just to mention. Regarding Ping An Insurance's proposal to spin off, our view is in line with the management. We are contrary due to the high dis-synergies and also for the:
higher cost of IT;
liability management;
tax implications in particular on the UK corporate center;
MREL regulations and higher costs.
[ad_2]

Image and article originally from seekingalpha.com. Read the original article here.