[ad_1]

Solar stocks are on fire. The Invesco Solar ETF (TAN) has been a huge winner over the past three months (ETF performance heat map below). Last week's positive news out of Washington D.C. and recent earnings reports within the industry have been bullish macro and micro stories helping the niche. On the former topic, Senators Schumer and Manchin agreed on a broad piece of legislation aimed to help domestic clean energy providers.
Three-Month ETF Performance Heat Map: TAN Surges
The Inflation Reduction Act's (IRA) goal is to bolster clean energy production at home while reducing the federal budget deficit. The IRA faces significant hurdles in order to pass, however – it might require an aggressive "reconciliation" action as bipartisan support is unlikely. If it does get through, the bill contains over $60 billion in tax credits for domestic clean energy production.
Inflation Reduction Act Revenue & Spending Estimates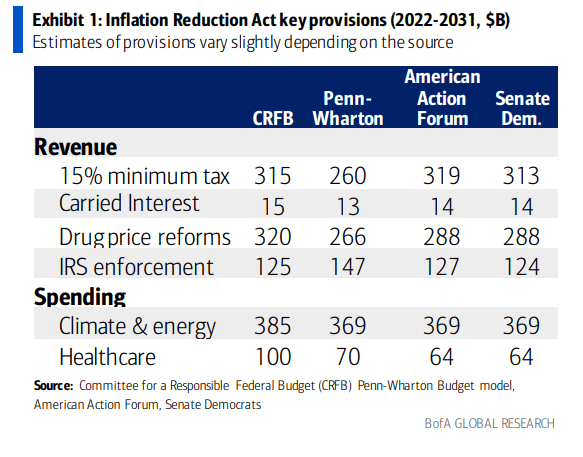 Among the beneficiaries of the bill would be many solar stocks – SunPower (NASDAQ:SPWR) is one of them. According to Bank of America Global Research, SunPower Corporation designs and manufactures solar panels and systems, which it sells to residential, business, government, and utility customers. Total SA, one of the largest integrated oil and gas companies in the world, owns 57% of SunPower.
The $3.8 billion market cap semiconductor company, based in California, also stands to benefit from the $280 billion CHIPS bill that was introduced immediately before the IRA. Talk about legislative tailwinds.
Earlier this week, SPWR reported adjusted Q2 earnings of three cents per share, in-line with expectations. A big revenue beat brought about buying activity in the stock. After reporting a 60% rise in quarterly sales and adding a record number of new customers, the stock jumped on Tuesday. What was particularly encouraging was the announcement of a strategic partnership with retailer IKEA, targeting U.S. consumers.
On valuation, the stock is not cheap, but with big EPS growth expected, the company's future EV/EBTIDA is not unreasonable, according to BofA estimates. Also, consider that free cash flow should start rolling in over the coming quarters.
SPWR Earnings, Valuation, Free Cash Flow Forecasts
The Technical Take
Taking a step back, SPWR shares dropped hard off their early 2021 peak. As time progressed, the stock coiled in a modified triangle pattern. After hitting a low in May, arguably a false breakdown, SPWR meandered on low volume until last week. When news of the Inflation Reduction Act broke, the stock climbed last Thursday on significant volume. That move created a gap on the chart, which I view as a bullish breakaway gap. Yesterday's earnings reaction was very positive at +9%, though it settled off the $22.91 high. I see more upside to come.
There is some resistance in the $25-$26 range and between $34-$35. Support should be found at the breakout point last week just above $16. Investors must also consider that SPWR's short interest is above 17%, according to The Wall Street Journal. That could add fuel to the fire on a rally.
SPWR: Bullish Breakaway Gap, Two Upside Levels To Monitor
The Bottom Line
Solar stocks and semiconductor firms continue to attract buyers. Both TAN and the popular VanEck Semiconductor ETF (SMH) have rallied big in the last month. Two huge spending bills look to promote firms in those industries. SunPower's upbeat earnings report was another buying catalyst. Keep an eye on two price levels on the stock as a rally looks to persist.
[ad_2]

Image and article originally from seekingalpha.com. Read the original article here.