The Composite Breadth Model at TrendInvestorPro has been bearish since April 11th and remains bearish, which suggests that the current bounce in SPY is a counter-trend advance within a bigger downtrend. Also note that the 5-day SMA for SPY is below the falling 200-day SMA and the Trend Composite is negative (long-term downtrend).
Despite a bear market environment, one group is attracting buying interest and this is reflected in our ETF Trend Signal and Ranking Table. The image below is a cut out of this table, which tracks Trend Composite signals and momentum for 274 ETFs. The Clean Energy industry is one, if not the, strongest group right now because four of the seven are in uptrends (TAN, ICLN, ACES, QCLN).

Note that there were 10 new uptrend signals this past week, which are shown in the "Recent Signal" column on the table below. Despite these new signals, only 16 of the 274 ETFs (5.8%) in our trend tracker are in uptrends. Outside of Clean Energy, the new uptrends signals were in ETFs related to Energy, Utilities, Staples and Healthcare (yellow arrows). This tells me that the broader market still favors defense (risk off) over offense (risk on).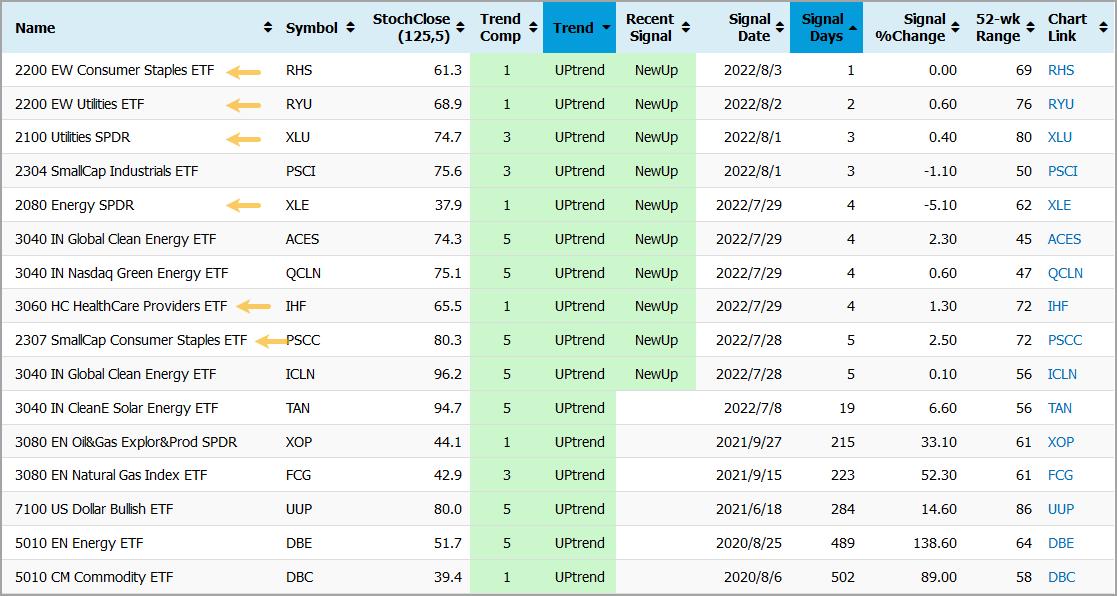 The Trend Composite and StochClose form the backbone of the ETF Trend-Momentum Strategy at Trend InvestorPro. In addition to regular analysis and comprehensive videos, this strategy is detailed in a ten part series available to subscribers. Click here for immediate access.
The Trend Composite, StochClose, ATR Trailing Stop and eight other indicators are part of the TIP Indicator Edge Plugin for StockCharts ACP. Click here to take your analysis process to the next level.
—————————————