[ad_1]

Mohammad Daud had not visited his relatives for around five years. The 32-year-old in the southeastern Afghan city of Jalalabad avoided the long trip to their rural district, fearing he might be harassed, kidnapped or killed by thieves or the Taliban along the way.
In recent months, however, he has visited repeatedly, going to meet his family, inspecting their ancestral lands or simply for a day out with friends. "Earlier it was impossible . . . People were scared of getting abducted," he said. "Now I can travel anywhere."
The end of Afghanistan's 20-year war last August, when the Taliban toppled the western-backed government, has led to a marked drop in violence on the roads, if only because the group — who long menaced travel routes as insurgents — are now largely unchallenged militarily.
Amid this change, the Taliban's control of the road network has become one of the most important ways for them to consolidate power, from asserting control over trade and the economy to furthering their draconian ideology by restricting women's freedom to travel.
"These roads and routes have always been central" to power in Afghanistan, said Graeme Smith, a senior consultant at Crisis Group. Roads are "the lifeblood of the country and fundamental to how Afghans see their own government".
In addition to barring teenage girls from school and ordering women to cover their faces in public, the Taliban have begun ordering women to travel with a mahram, or male escort.
A 21-year-old woman who lives in Kabul made several trips outside the city alone or with female relatives after the Taliban's takeover, only to become increasingly rattled as the militants aggressively questioned her at checkpoints. "They asked us, 'Where is your man? Where is your owner?'" she said.
Before, "security was not good, but we didn't have any fear about what we should wear", she added. Now, travelling is "hard and it's terrible to go alone anywhere". To avoid scrutiny when travelling by bus or shared taxi, she sometimes wears a burka and asks a man to pretend to be with her.
Landlocked Afghanistan, which lacks alternatives such as railways, has always relied on its roads. Cities such as Kabul or Herat were important stops along ancient Silk Road trade routes that facilitated the spread of goods and ideas, from gold and spices to Buddhism and Islam.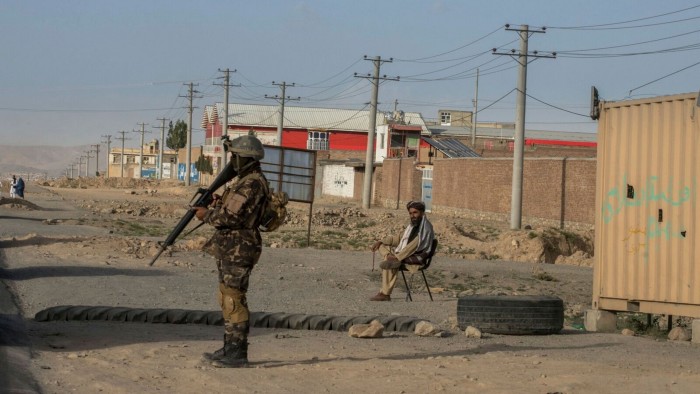 Militant Islamists in southern Afghanistan formed the Taliban in the 1990s partly to wrest control of the roads from warlords who used checkpoints to extort and brutalise locals.
But after they were ousted from power in a US-led invasion in 2001, the Taliban adopted similar strategies, using makeshift roadblocks to tax trucks and attack travelling government officials, troops or foreigners.
For international organisations in Afghanistan, travel during the conflict often involved negotiating with warring sides to safely cross battle lines with supplies such as food and medicine. Travelling anywhere was dangerous, said Philippe Kropf, head of communications for the UN World Food Programme in Afghanistan. "They'd need to know we're coming with a food convoy that needs to be let through . . . that we're not military," he said.
Between January and May the UN recorded an almost 500 per cent drop in armed clashes, explosions and other security incidents compared with the same time a year earlier, according to a June report submitted to the organisation's Security Council. After a devastating earthquake in June, the WFP was even able to travel at night — previously unthinkable — to speed up delivery of aid.
But parts of the country, such as Panjshir province in the north, remain destabilised by a latent anti-Taliban insurgency.
Control of the country's roads is also central to the Taliban's economic project. Since coming to power, they have set about dismantling the extensive network of police and military checkpoints that dotted highways and were used to extort traders and travellers. A UK Foreign Office-funded study last month estimated that these checkpoints collected around $650mn a year in bribes.
This has helped ease trade in lucrative commodities such as coal, boosting tax revenues for the Taliban's cash-strapped government. It has also removed opportunities for local commanders to accumulate independent wealth and power through smuggling, limiting their ability to challenge the group's authority.
For traders and truck drivers, checkpoints "created a degree of uncertainty, with regards to not just cost [of bribes] but the potential for violence as well", said David Mansfield, a researcher and an author of the study. Now "they're not being shaken down . . . There is this consistent message that the roads are more secure."
But another, more mundane obstacle remains: Afghanistan's poor infrastructure. Truckers and locals must navigate everything from potholes to bomb craters as they travel. The Taliban have pledged to upgrade the transport networks. "Our roads are destroyed all across Afghanistan," said Esmatullah Burhan, a spokesman for the mining ministry. "Firstly, we need to collect the money to build them."
But is unclear how — if ever — their internationally sanctioned government will find the funds. "The roads are going to be key to the economic revival that is so necessary," Smith said. "It's really a matter of life or death. They need to fix those roads in order to get those trucks rolling."
[ad_2]

Image and article originally from www.ft.com. Read the original article here.