[ad_1]

January has quite a reputation on Wall Street as an influx
of cash from yearend bonuses and annual allocations has historically propelled
stocks higher. January ranks #1 for NASDAQ (since 1971), but sixth on the
S&P 500 and DJIA since 1950. January is the last month of the best three-consecutive-month
span and holds a full docket of indicators and seasonalities. 
DJIA and S&P rankings did slip from 2000 to 2022 as both
indices suffered losses in thirteen of those twenty-three Januarys with three
in a row in: 2008 to 2010, 2014 to 2016 and then again from 2020 to 2022.
January 2009 has the dubious honor of being the worst January on record for DJIA
(-8.8%) and S&P 500 (-8.6%) since 1901 and 1930 respectively. Covid-19
spoiled January in 2020 & 2021 as DJIA, S&P 500, Russell 1000 and
Russell 2000 all suffered declines in 2020. In 2021, DJIA, S&P 500 and
Russell 1000 declined. In 2022, surging inflation, reaching multi-decade highs,
stoked fears of substantially higher interest rates in January. 
However, in pre-election years, Januarys have been outright
stellar ranking #1 for S&P 500, NASDAQ, Russell 1000, and Russell 2000 and
#2 for DJIA. Average gains range from 3.4% by Russell 1000 to a whopping 6.8%
for NASDAQ. DJIA and S&P 500 have only declined twice in pre-election
Januarys, 2015 and 2003.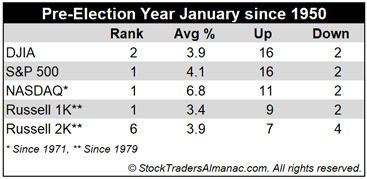 Not a subscriber? Sign up today for a Free 7-Day Trial to Almanac Investor to continue reading
our latest market analysis and trading recommendations and get a full run down
of seasonal tendencies that occur throughout each month of the year in an
easy-to-read calendar graphic with important economic release dates
highlighted, Daily Market Probability Index bullish and bearish days, market
trends around options expiration and holidays. In addition, the Monthly Vital
Statistics Table combines stats for the Dow, S&P 500, NASDAQ, Russell 1000
and Russell 2000 and puts them all in a single location available at the click
of a mouse.
[ad_2]

Image and article originally from jeffhirsch.tumblr.com. Read the original article here.