[ad_1]

July historically is the best performing month of the third quarter however, the mostly negative results in August and September tend to make the comparison easy. Two "hot" Julys in 2009 and 2010 where DJIA and S&P 500 both gained greater than 6% and strong performances in 2013 and 2018 have boosted July's average gains since 1950 to 1.3% and 1.1% respectively. Such strength inevitability stirs talk of a "summer rally", but beware the hype, as it has historically been the weakest rally of all seasons (page 76, Stock Trader's Almanac 2022).
July begins NASDAQ's worst four months and is the fourth weakest performing NASDAQ month since 1971, posting a 0.6% average gain. Dynamic trading often accompanies the first full month of summer as the beginning of the second half of the year brings an inflow of new capital.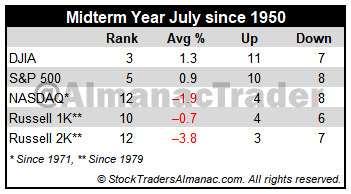 Midterm-year July rankings are something of a mixed bag, ranking #3 for DJIA and #5 S&P 500, averaging gains of 1.3% and 0.9% respectively (since 1950); while NASDAQ (since 1974) and Russell 2000 (since 1982) midterm Julys rank #12. NASDAQ has only advanced in four of the last twelve midterm Julys with an average loss of 1.9%. Russell 2000 has advanced only three in its last ten with an average decline of 3.8%.
Not a subscriber? Sign up today for a Free 7-Day Trial to Almanac Investor to get a full run down of seasonal tendencies that occur throughout each month of the year in an easy-to-read calendar graphic with important economic release dates highlighted, Daily Market Probability Index bullish and bearish days, market trends around options expiration and holidays. In addition, the Monthly Vital Statistics Table combines stats for the Dow, S&P 500, NASDAQ, Russell 1000 and Russell 2000 and puts them all in a single location available at the click of a mouse.
[ad_2]

Image and article originally from jeffhirsch.tumblr.com. Read the original article here.