[ad_1]

This chart shows an interesting short term pattern that makes me think this rally is different from recent ones. I have marked short term tops (T) and bottoms (B). In a declining trend we see lower tops and bottoms. However the most recent bottom is higher than the previous one. We did not get the expected lower bottom. It looks like we now may be getting a higher top. This would be short term bullish if it holds on Friday. Sentiment is so bearish and so many pundits expect more market lows, which makes me think things may be about to turn, at least for the short term.
I received some questions about where to draw the green line for HALO. I drew it at the top of the highest monthly bar even though the stock retreated from the high that month. Some people think it should be drawn at 51.57, the peak reached two months later. I adhere to the rule to draw it at the highest monthly bar, at 56.40. When it crosses that line it is truly at an ATH. I will discuss the rationale for green line break-outs (GLB) at my TraderLion presentation on July 16 at 2:40 PM EST.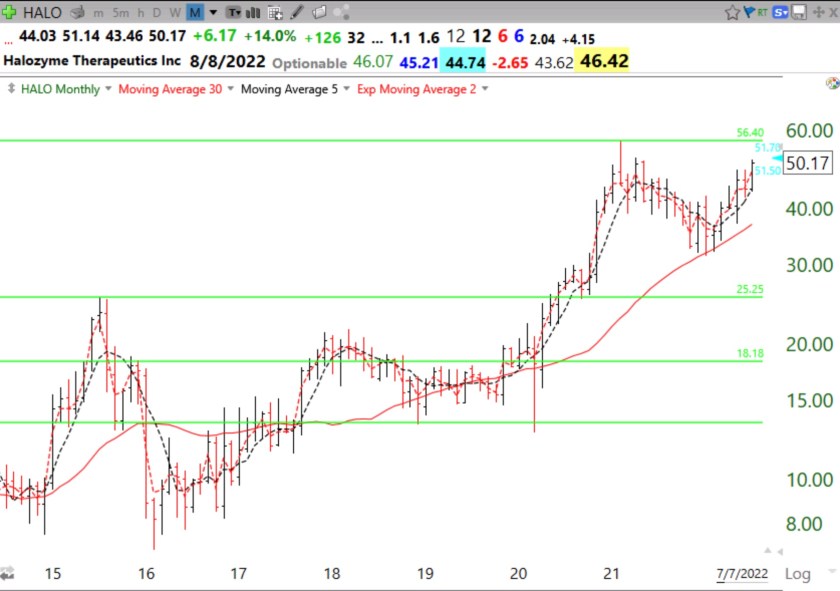 Related
[ad_2]

Image and article originally from www.wishingwealthblog.com. Read the original article here.