The S&P 500 recorded its strongest monthly gain since November 2020, rallying 9.1% during a volatile period that ended with a bang. Growth stocks outperformed, with Consumer Discretionary (XLY) and Technology (XLK) stocks leading the way. It was not a particularly easy period to navigate, however, as investors digested news of inflation hitting a 40-year high amid mixed economic data that sparked debates surrounding the Fed's possible reaction.
News this past week appeared to strike the right chord, with a decline in 2nd quarter GDP signaling a slowdown in the economy, which could lead to less aggressive Fed action and a slowing of their rate hikes later in the year. Earnings season also provided a boost, as deeply oversold stocks rallied after reporting results that weren't always stellar. I wrote about this possibility, and highlighted Amazon (AMZN), in an article 2 weeks ago, which can be accessed here. 
Within July's top-performing Technology sector, Renewable Energy was the big outperformer with a 40% rally on the heels of a large gain in Solar stocks last week. The group appears to have further upside following last week's announced Inflation Reduction Act. The bill will represent the biggest climate investment in U.S. history. Another important driver for this group has been positive earnings reports.
DAILY CHART OF INVESCO SOLAR ETF (TAN)
Subscribers to my MEM Edge Report were alerted to a positive shift in this group, as well as a buy recommendation for one of the top performers, in my July 10th report.
The interest in stocks from this group has been driven by the continued uptick in the price of oil, which has sparked a demand for alternative energy sources. Russia's reduction of gas supplies is another factor, particularly within Europe.
Enphase (ENPH) from my MEM Edge Report, is the largest producer of converters that turn solar-based electricity into usable energy. The company reported quarterly earnings last week that were 100% higher than last year, with management guiding growth prospects higher well into next year.
DAILY CHART OF ENPHASE ENERGY INC. (ENPH)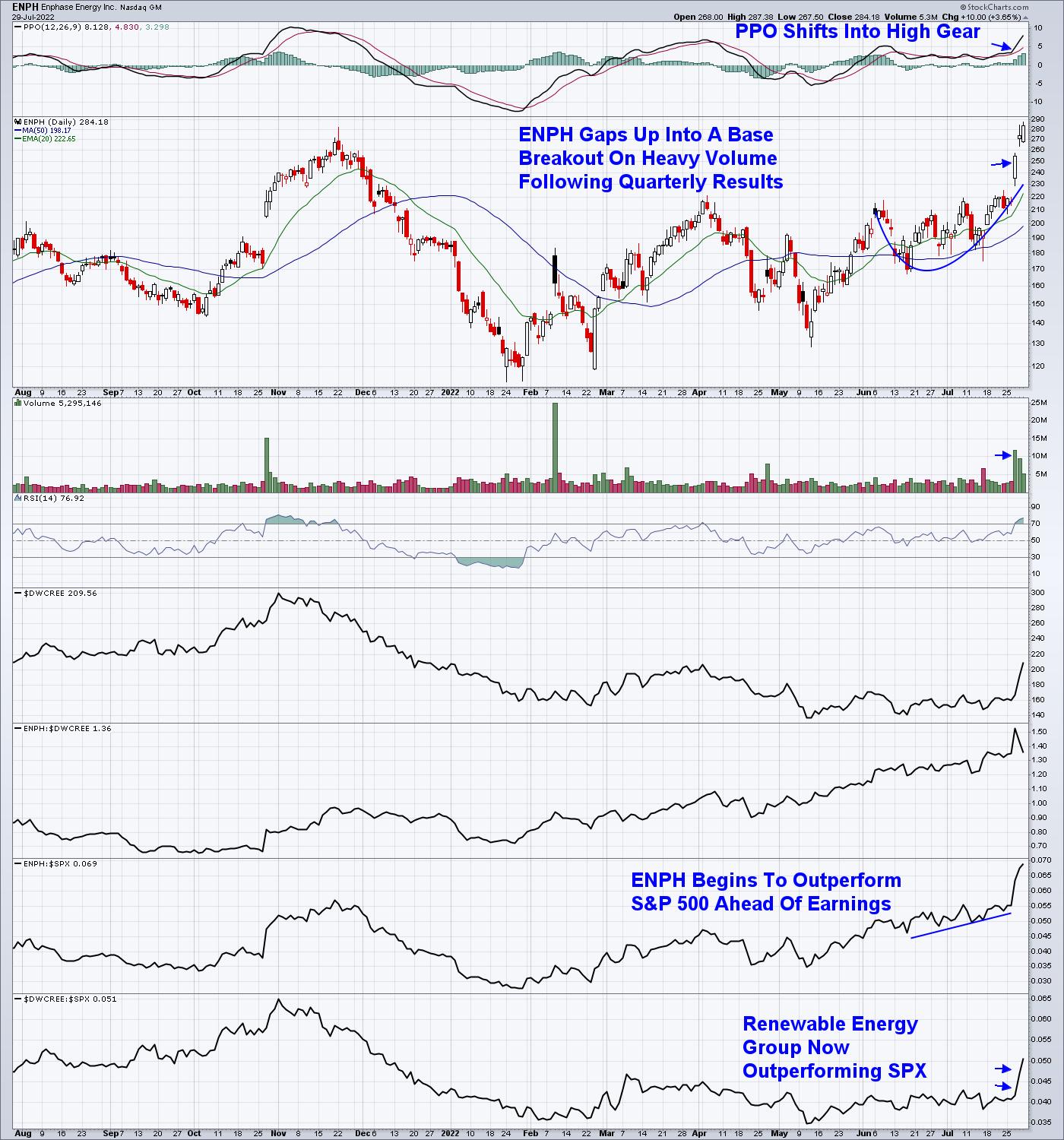 The potential passage of the Inflation Reduction Act spurred the stock higher as well. 
While Alternative Energy stocks are on the move higher, other rotation is also taking place, with Energy, Utility and REIT stocks far outpacing the markets last week amid strong earnings results. Other dynamics are also at play for these groups and, for those who'd like insights into why you should be in these groups, as well as which stocks will benefit the most, take a 4-week trial of my twice weekly MEM Edge Report for a nominal fee.
My MEM Edge Report had a 75% success rate in 2021 with losses not exceeding 3%. Take a trial now using the link above!
---
On this week's edition of The MEM Edge, now available to watch on demand at StockChartsTV.com and the StockCharts YouTube channel, I explain why the markets are poised to trade higher and how you can participate. I also discus the rotation into newer areas that have higher upside from here.
---
Warmly,
Mary Ellen McGonagle, MEM Investment Research