[ad_1]

Welcome back, everybody!
It's that time again…time to have a look at some of my best past and UPCOMING trade ideas!
So let's get into it with this week's edition of The Wall Street Hustle.
On deck for actionable insights are:
NUGT

– Jeff Bishop Steals the 0-DTE show

QQQ

– Price Level Update

Interest rate-sensitive AAPL and its parabolic rally
Friends, at this point in the cycle, as the market is bouncing back from this year's 1st half bludgeoning, economic data keep showing that the Fed is getting backed deeper and deeper into a corner.
You see, as "hot" economic reports such as Friday's stronger than expected jobs report keep coming out, the Fed is going to have to maintain a "hawkish" posture, which means that they are going to have to remain focused on tamping down inflation.
That means continuing to raise interest rates, which will ultimately slow growth and grease the skids toward a possible recession.
Now, this is where market analysis really gets interesting, because we as traders have to determine if the market, which is forward looking and discounts Fed cycles roughly 6 months in advance, has priced all of this in already.
To answer that, we have to pay attention to one thing, and one thing ONLY, and that's price.
Since the NASDAQ and the large tech-heavy companies that make up this index are most sensitive to interest rates, I am paying close attention to the 311.84 level on QQQ.
And as this week's economic calendar shows, inflation is going to be top of mind AGAIN, with KEY inflation-focused data starting on Tuesday and running through Friday.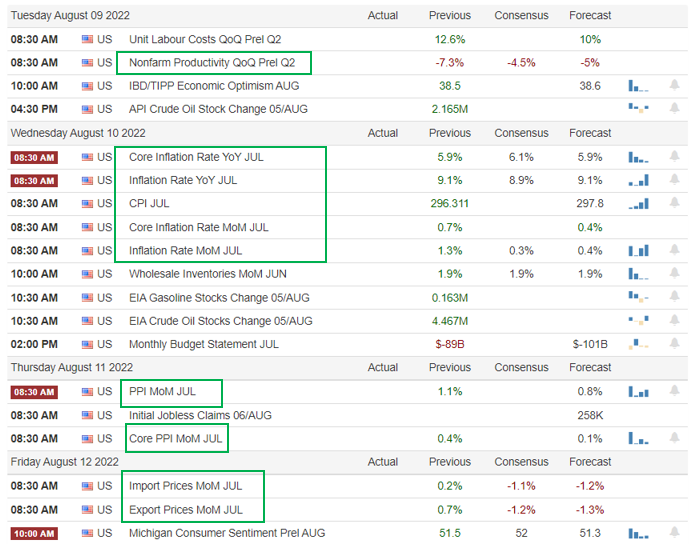 REMEMBER, as long as you pay attention to price, you'll know which trend to trade.
As this chart shows, as long as 311.84 holds, the rally will continue in QQQ.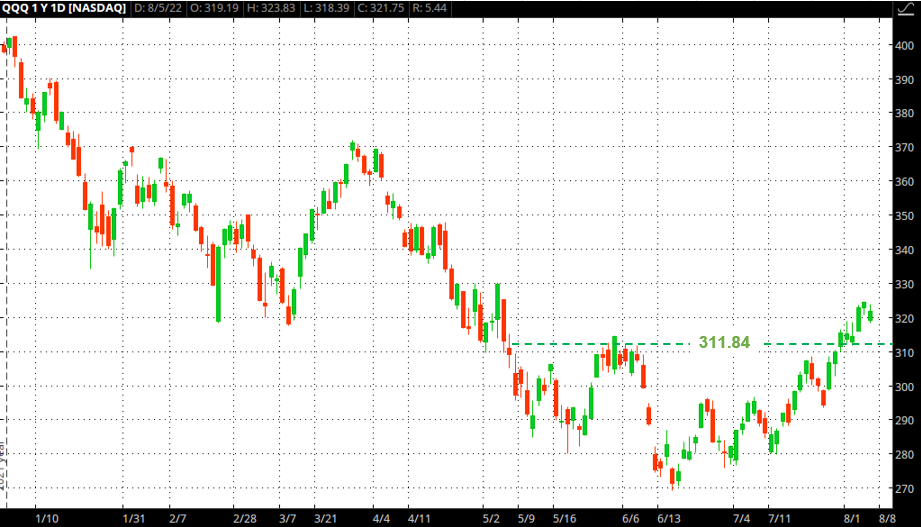 Back on 8/04/22 we alerted my LottoX Members to:
NUGT Long
Contract: $31.50 Calls trading near $0.60 when members were alerted.
This past Thursday, I had a special guest, Raging Bull's CEO, Jeff Bishop, stop into my LIVE LottoX / 0-DTE trading sessions.
I don't need to tell you that Jeff has been through countless economic cycles in his storied 20+ year career.
So it should come as no surprise that he gave us a trading idea in the gold mining space to take advantage of the recent inflation narrative.
Like a master, Jeff identified this beautiful "bull flag" pattern that was setting up in NUGT at the time our LIVE discussion was taking place.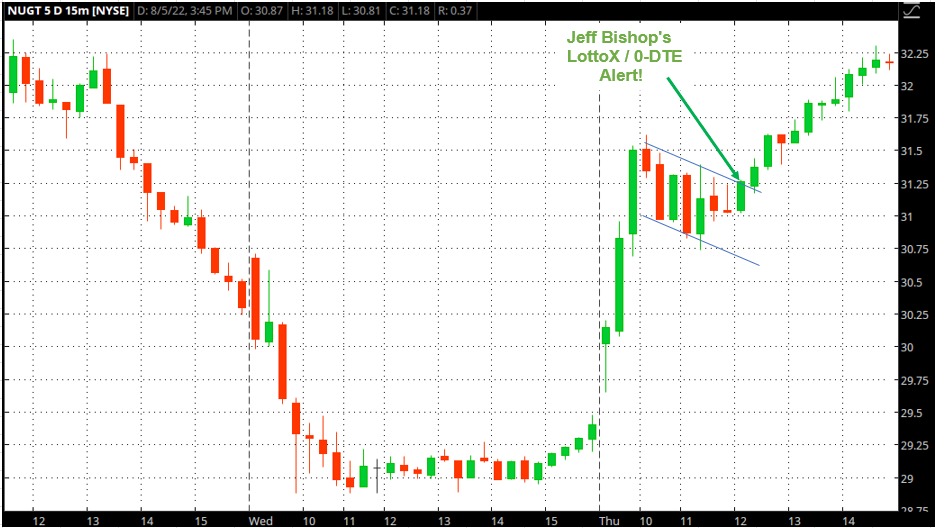 Jeff's idea was to go long the $31.50 NUGT calls at around $0.60.
And as you see here, the rest is history, with that option moving as much as 70% IN LESS THAN 2 HOURS.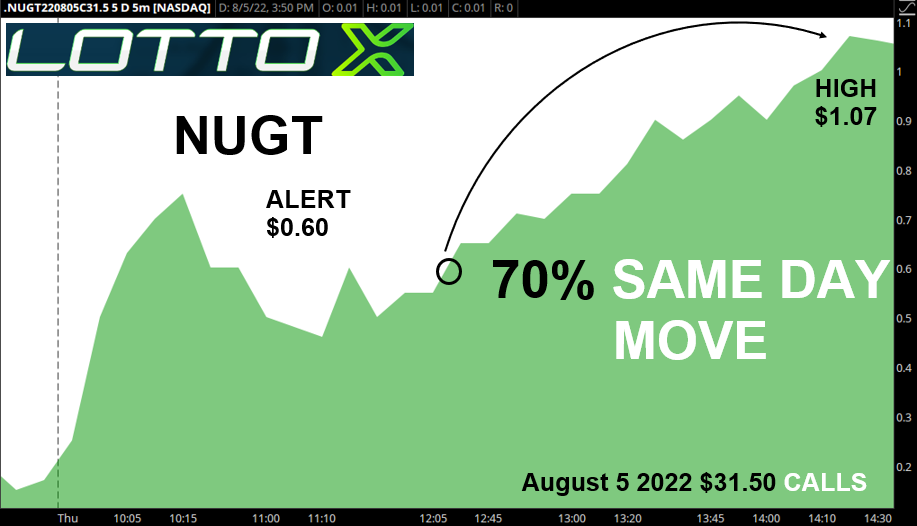 Needless to say, Theta (time decay) didn't stand a chance here.
Now, THIS throwback came from Thursday's LottoX Live session…  
So if you aren't a member yet, consider saving on a year of access today… CLICK HERE TO JOIN LottoX
Look, if you want to keep looking back at big moves instead of learning how to find them ahead of time, then I guess you're just not ready yet to become part of what's going on in the Fat Cat Kitchen.
I'm about to give you a little taste of what I'll be looking to trade this week, BUT THAT'S IT, since giving you any more than that won't be fair to my existing members.

After my Dollar Ace warned of this MASSIVE move in UBER shares last week, I'm keeping a close eye on this scanner again this week.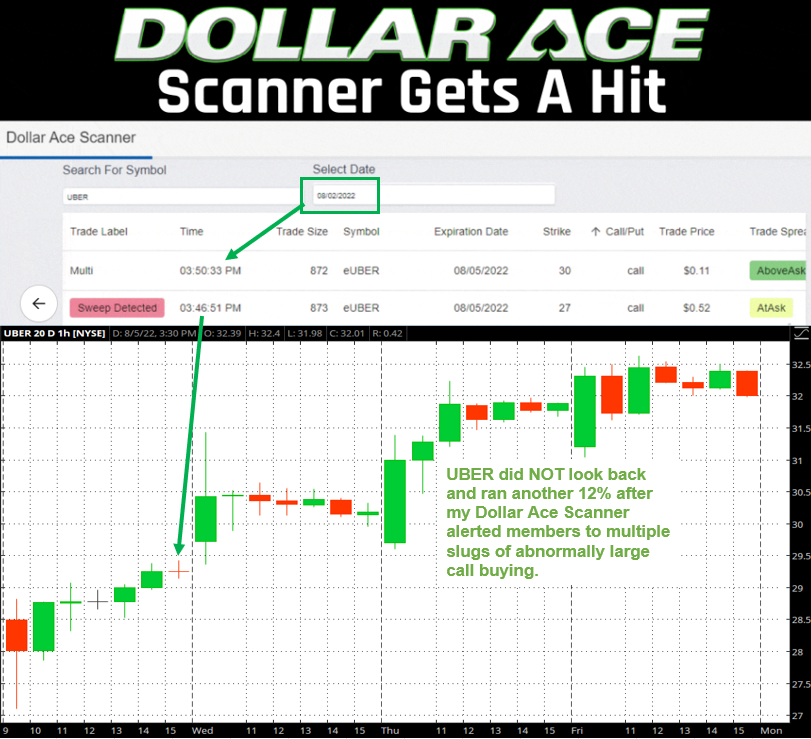 But that shouldn't come as a surprise, since this Scanner and my Dark Pool Pick Scanner are the reason I am where I am today!
So where am I focusing with these scanners?
Well, if we consider the discussion we had at the open, I'm watching interest rate-sensitive names since they are likely to remain the most volatile.
Don't forget, volatility works for both bulls and bears, so you must embrace it for the opportunities it offers. 
Starting TODAY, one of the names I am paying attention to is AAPL, which, as the chart below reveals, is HIGHLY correlated (trades very much like) to QQQ.
As you can see here, AAPL came up on my Dollar Ace Scanner on Friday.

Friends, this stock is in straight up FOMO mode.
AAPL looks to be in a blow-off rally, where price starts to get parabolic ahead of a late cycle push up to big resistance.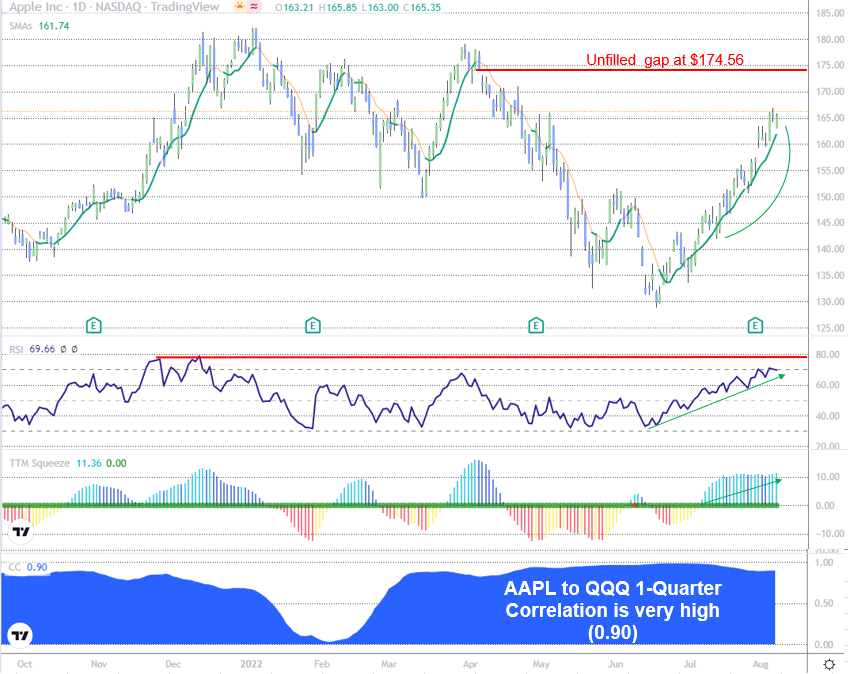 That resistance is the unfilled gap at $174.56.
Yes, RSI is getting high, but there is no divergence in the RSI,
Not only that, don't forget that when a trend is strong RSI can stay extended for longer than expected.
As long as AAPL continues to ride that 8-DMA (currently near $163), this FOMO should continue. 
Well that's it for today – Happy trading, Full-Scopers –  I'll be in touch!
[ad_2]

Image and article originally from ragingbull.com. Read the original article here.