[ad_1]

The UK's business secretary has admitted that importing US-made wood pellets to be burnt for energy by power company Drax is not sustainable and "doesn't make any sense". 
Kwasi Kwarteng also told MPs that the government had not fully investigated the sustainability of burning wood pellets, a type of biomass. He said the Department for Business, Energy and Industrial Strategy had discussed biomass with industry but "we haven't actually questioned some of the premises" of the sustainability of pellets.
The government has spent millions subsidising the burning of pellets in Drax's Yorkshire facility over the past decade and the fuel features prominently in the UK's net zero strategy.
Kwarteng made the comments this week during a meeting with a group of cross-party backbench MPs, who raised concerns about the sustainability of wood pellets, which are described as renewable by Drax.
"There's no point getting [wood pellets] from Louisiana . . . that isn't sustainable," said Kwarteng. Shipping pellets from Louisiana — one of Drax's sourcing regions in the US — has "a huge cost financially and environmentally . . . [it] doesn't make any sense to me at all," he added.
Drax has been gradually converting its coal-fired power station to biomass power and is seeking to reinvent itself as a green energy company. The company, which imports about 80 per cent of the wood pellets it uses in the plant from North America, received around £832mn in government subsidies in 2020 and about £790mn in 2019, according to analysis by think-tank Ember.
That support is due to expire in 2027, but the company is seeking new subsidies for the development of biomass paired with carbon capture and storage technology, known as Beccs.
Drax argues that its pellets are responsibly sourced and that the emissions produced by their combustion are offset by the growth of new carbon-absorbing trees.
However, numerous environmental groups and scientists have questioned these claims. They argue that it takes a long time for trees to absorb carbon, that importing pellets is emissions-intensive and that the large-scale harvesting of wood threatens ecosystems.
In January, David Joffe of the Climate Change Committee, which advises the government, said there were "big challenges about ensuring the sustainability of biomass grown outside the UK". He added that imported biomass was "not something that the UK should be relying on at large scale". However, the committee has stressed the need for some biomass energy if the UK is to reach its target of net zero carbon emissions by 2050.
Allies of Kwarteng confirmed that he had raised concerns about Drax's use of pellets imported from the US. But he was said by colleagues to remain fully supportive of the company and the biomass sector, which they said was a vital baseload provider for the UK power network.
"Without Drax, the UK would have to import more electricity from Europe at a time when the continent is in serious trouble," said a government official.
In the meeting with MPs, Kwarteng admitted that biomass had not developed as quickly as other renewable fuels, such as offshore wind and hydrogen.
"I can well see a point where we just draw the line and say [biomass] isn't working, this doesn't help carbon emission reduction and so we should end it," he said. "All I'm saying is that we haven't quite reached that point yet."
The government's net zero strategy envisages that the use of Beccs would account for two-thirds of so-called "negative emissions" — or technologies that remove carbon from the atmosphere — in the UK by 2050.
It has committed £1bn for the development of a carbon capture sector, including £30mn to support the production of "sustainable domestic biomass." The business department also said it would "develop markets and incentives" to support investment in emissions removal technologies including Beccs
"The business secretary has always been clear biomass has a key role to play in boosting Britain's energy security," said a government spokesperson. "The UK government only supports biomass which complies with our strict sustainability criteria and will shortly publish our biomass strategy which will further detail our position on its future use."
A Drax spokesperson said the company "is one of Europe's lowest carbon intensity power generators and our sustainable biomass is critical to UK energy security, supplying enough reliable renewable electricity to keep the lights on for 4mn households".
Climate Capital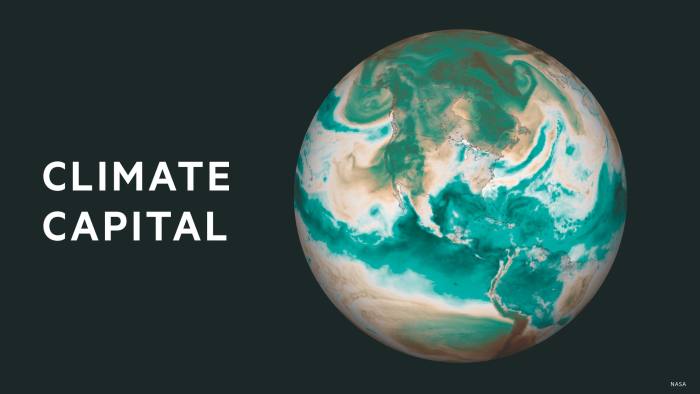 [ad_2]

Image and article originally from www.ft.com. Read the original article here.