[ad_1]

REIT is short for 'real estate investment trust'. In Singapore, REITs are a type of professionally managed collective investment scheme which acquires, owns and finances income-generating real estate.
Because of the stable stream of contractual rents they collect from tenants and their requirement to distribute a minimum 90% of their earnings, REITs provide investors with a regular income stream. They also offer investors potential long-term capital appreciation and an affordable means of investing in a wide range of real estate assets.
For REITs listed in Singapore (called SREITs), at least 75% of their total assets must be invested in income-producing real estate. SREITs may also hold real estate in more than one asset class, and either in one country or multiple countries. Increasingly, many SREITs have ventured abroad in search of higher risk-adjusted returns and greater diversification.
The table below shows the types of asset classes and geographical breakdown of SREITs.
Since the first SREIT listing in 2002, Singapore has transformed into a global REIT hub with 43 REITs and property trusts, boasting an estimated market capitalisation of S$111 billion as at May 31, 2022. Out of the 43, more than two-fifths are offshore REITs with 100% of their properties outside of Singapore, and only ~10% hold 100% Singapore assets.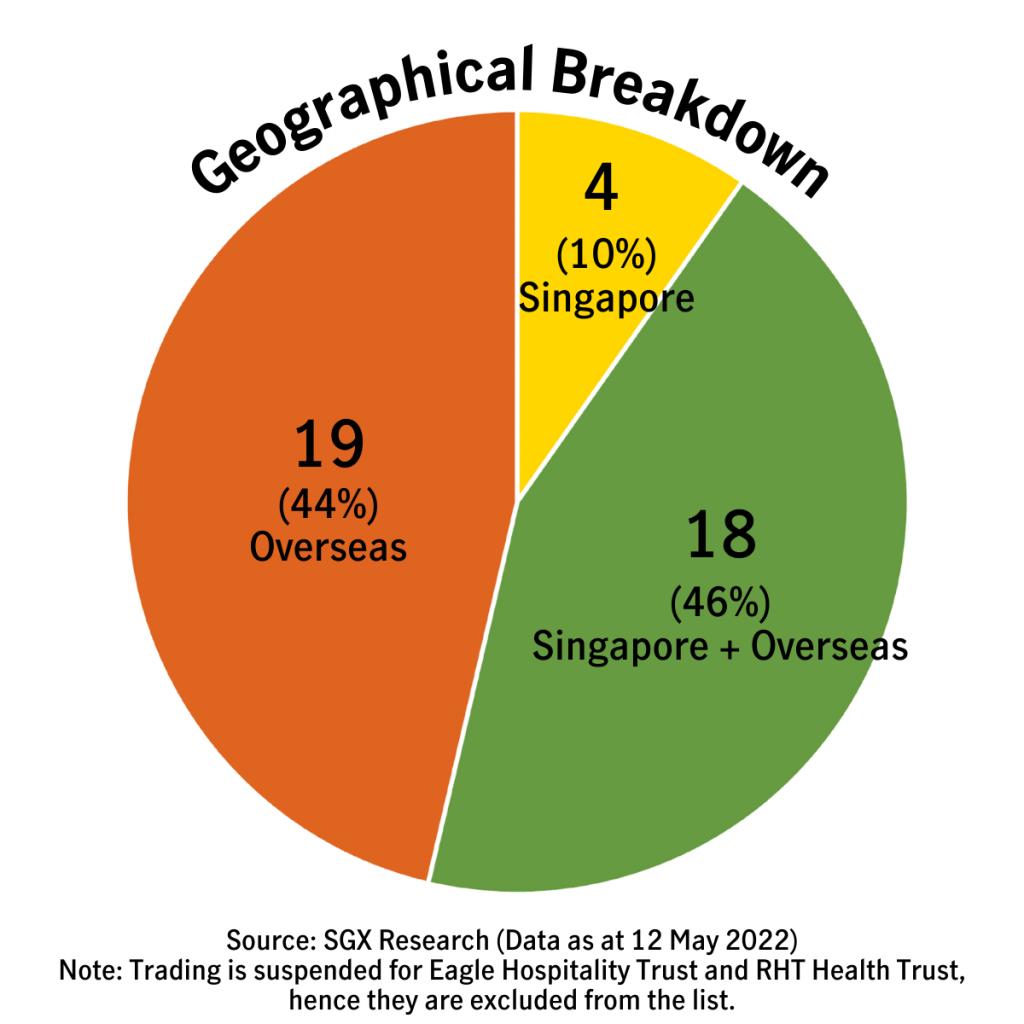 In the next article, we will share some popular reasons why people invest in REITs as well as things to note when doing so. Stay tuned!
Sources:
SGX Research, "Chartbook: SREITs & Property Trusts", 12 May 2022
MoneySense.gov.sg, "Understanding real estate investment trusts (REITS)", 29 Oct 2018
'Reits to Riches' by Tam Ging Wien, 2017
Disclaimer: This article is for informational purposes only and shall not be construed as financial advice or an offer, invitation or solicitation of any offer to purchase or subscribe for any securities of Manulife US REIT in Singapore or any other jurisdiction nor should it or any part of it form the basis of, or be relied upon in connection with, any contract or commitment whatsoever. You should always do your due diligence and seek professional advice before making any investment decisions. None of the information presented are intended to form the basis for any investment decision, and no specific recommendations are intended.
This article first ran on Manulife US REIT's thought leadership column, Viewpoints, which publishes regular content on the U.S. economy and the office sector. Follow MUST on LinkedIn for all the latest updates!
Kenny Loh is an Associate Wealth Advisory Director and REITs Specialist of Singapore's top Independent Financial Advisor. He helps clients construct diversified portfolios consisting of different asset classes from REITs, Equities, Bonds, ETFs, Unit Trusts, Private Equity, Alternative Investments, Digital Assets and Fixed Maturity Funds to achieve an optimal risk adjusted return. Kenny is also a CERTIFIED FINANCIAL PLANNER, SGX Academy REIT Trainer, Certified IBF Trainer of Associate REIT Investment Advisor (ARIA) and also invited speaker of REITs Symposium and Invest Fair.  
You can join my Telegram channel #REITirement – SREIT Singapore REIT Market Update and Retirement related news. https://t.me/REITirement
[ad_2]

Image and article originally from mystocksinvesting.com. Read the original article here.