[ad_1]

The market was getting frothy. I felt it in my old trader bones. When you see junk like BBBY, AMC and GME up hundreds of percent that's not a good sign for the market overall. In fact, that's usually the sign that a short-term top is around the corner. 
That's why my Bullseye trade of the week was buying Amazon puts, a way to play the overall market short! Here's what happened to those options:
Over 50% in less than a week ain't bad!
Don't miss my next favorite setup coming Monday morning! I've got another great trade Idea lined up. Don't get left behind Click Here NOW! 
I expected the market to turn, and Amazon (AMZN) is a market stock i.e. a high Beta stock that moves with the market. It was up around 40% from the lows made in late June, one of the bigger movers for market stocks, and a massive move for such a large company in a short time. At times, the bigger the move, the less sustainable it is, and the more likely we are to see a bigger pullback. And on Friday, AMZN, along with the market, finally cracked.
For a limited time 360 Wallstreet is available at 0 cost to subscribers. Sign up here for our best trade Ideas and training sessions Daily.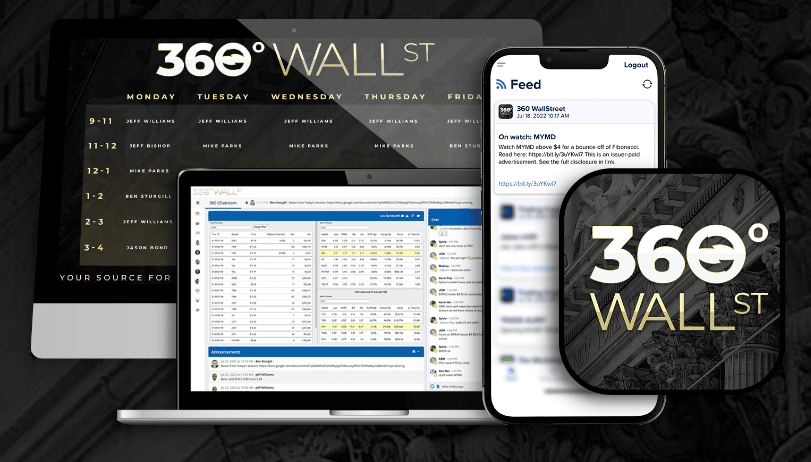 You can join me and 100's of other people in the 360 chat room @ 11am EST today! I'll break down my Bullseye trade for this week LIVE, you don't want to miss this!
Wall st 360 is the hottest trading room at Raging Bull with hundreds and hundreds of people there every day. We are opening it up to you at absolutely no cost for the remainder of summer, so make sure you check it out during the week for live trading ideas practically nonstop!
Every Monday morning, I send out my best trade idea for the week before the market opens to Bullseye subscribers. After analyzing the market the week before and running through charts over the weekend, this is my favorite and most primo setup for the week. 
I believe that if you can manage one single trade a week and do it well, you can filter out all of the noise happening with the market overall. 
There's a lot of thought that goes into the Bullseye trade of the week. I'm looking to find good trade ideas that are outliers in the market. 
Don't miss my next favorite setup coming Monday morning! I've got another great trade Idea lined up. Don't get left behind Click Here NOW! 

Here was my reasoning for the Bullseye Pick, which was sent to subscribers on Monday morning on August 15, 2022
I hate to say it, but I am seeing a lot of stocks running out of steam right now. I think the market is going to take a breather soon and stocks are going to pull back, at least for a while.
The major averages are up around 20%+ since the lows we saw in June. This is a perfect "bear market rally" and it is getting top-heavy at this point.
We saw a record number of short sellers cover their positions last week and it fueled another big gain for the market. I don't think we will have that luxury again this week to propel us higher.
While the QQQ is up over 20% from the lows, would you believe that AMZN has rallied 40% in the same time?  That is an amazing run for a company that is worth $1.4 TRILLION now!
AMZN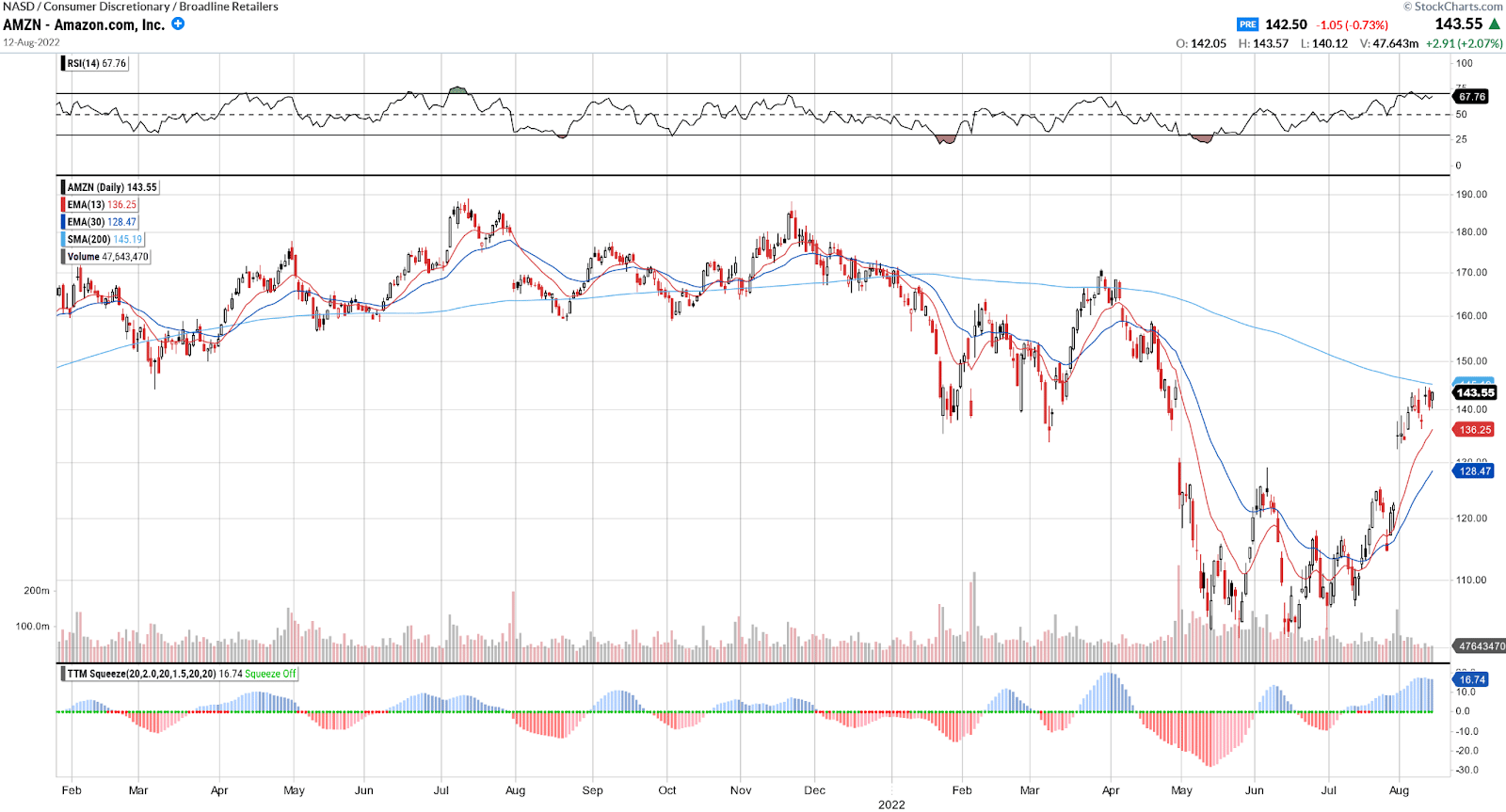 AMZN has been trying for over a week to get through the 200-day moving average, but to no avail. Since that has been such a tough spot to get through, I am going to use that as my stop on this trade. That would be AMZN closing above $146.
Since I am betting against AMZN this week, I am looking for a move lower in the stock. My profit target will be $133 which is the midpoint of the Keltner channel.
It is going to be an exciting week for the markets so make sure you are ready to go!
My Trade Details:
AMZN Sep 2 2022 140 Put near $3
Stop : Close above $146
Target : $133
As always, I will go over my thoughts on this trade live @ 11am EST every Monday – so please join me and hundreds of others then!
Don't miss my next favorite setup coming Monday morning! I've got another great trade Idea lined up. Don't get left behind Click Here NOW! 
Here's What Subscribers to Bullseye Trades are saying: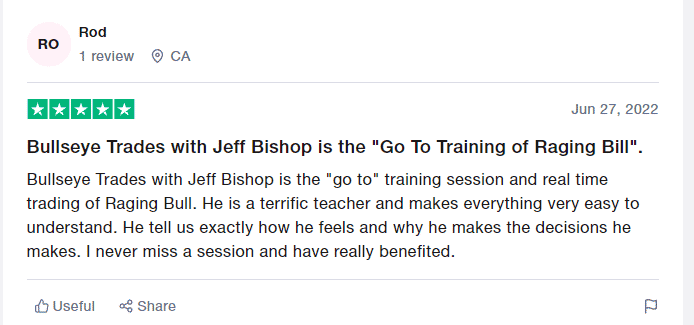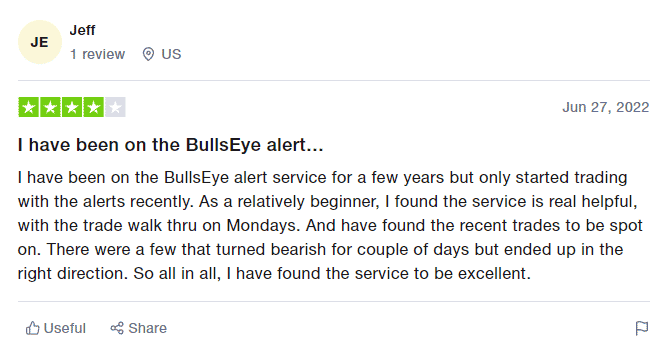 For a Limited time, get access to my live trading sessions at 0 cost in the 360 Wall St chat room! 
Also we'll be sending you our latest newsletter- 360 wall st. Think of it as your "360 view" of the market each day, where you can benefit from multiple perspectives. Sign up HERE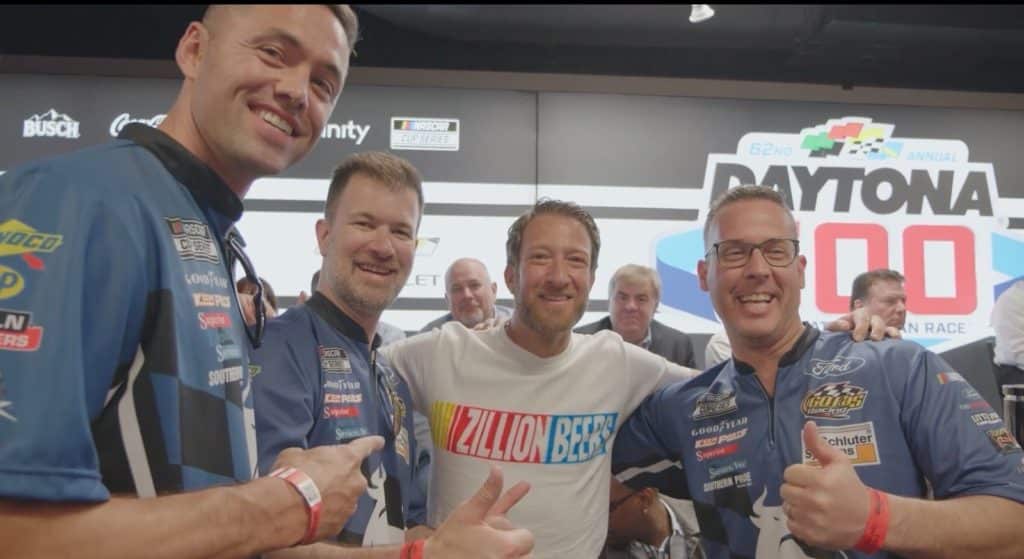 Every trading day, you can expect to receive 2-3 of our traders' top ideas.
It could be an option trade I really like, a crypto idea from Jake McCarthy, a momentum stock idea from Jason Bond, a fast-moving penny stock that Jeff Williams likes, a trade Davis Martin finds enticing, or maybe even something unusual that one of Ben Sturgill's scanners has picked up. Sign up HERE, and get access to 360 Wall St at 0 cost, for a limited time.


[ad_2]

Image and article originally from ragingbull.com. Read the original article here.